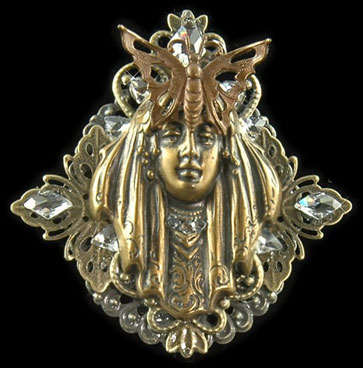 I create limited edition and one-of-a-kind jewelry using richly detailed antiqued gold brass filigree, Swarovski crystals, crystal dust, vintage Czechoslovakian stones and findings from all over the country. My antique gold filigrees are altered by bending and cutting in order to create the perfect montage of elements for my design.

Architecture and fashion from the Victorian era delights me beyond compare and living in San Francisco, all I have to do is walk out the door to see a new world of ideas for inspiration.

Iíve always had a love for Nouveau, Deco and Gothic antiques and jewelry and decided it was finally time to create my own signature designs. This first collection is an extension of my creative side compelled to come out to express those beautiful vintage designs in my own way. By mixing these various influences and adding a touch of fantasy or perhaps a touch of macabre my final piece becomes intricate and grandiose as I realize my inner dreams of balance, beauty and harmony.